Film Seminar "Talking Hands"
Film Seminar
Online event via Zoom

Datum:

21.02.2022

Uhrzeit:

16:00 - 18:00

Vortragender:

Screening & Artist Talk with Emanuel Almborg

Kontakt:

freiberg@biblhertz.it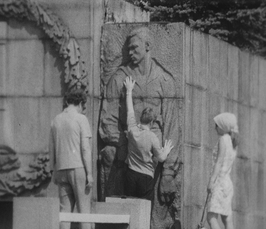 Talking Hands/Говорящие руки (48 min, 2016) is a film about the 1960s Zagorsk School for deaf-blind children outside Moscow and its "cultural-historical" pedagogy. The school was established by Marxist philosopher Evald Ilyenkov, who, in contention with dominant Soviet ideology, began developing ideas of how human consciousness is socially and spatially constituted, arguing that it emerges in relation to material culture, objects, tools and other people.
Inspired by 17th century philosopher Baruch Spinoza, Ilyenkov conceptualised the "thinking body", that is, a body's capacity to "mould its own action actively to the shape of any other body, to coordinate the shape of its movement in space with the shape and distribution of all other bodies" as a fundamental feature of "thinking" or "reason". For Ilyenkov, communism was a pedagogical project for such a knowing subject to emerge. Or as Alexander Suvorov, one of Ilyenkov's deaf-blind students, asserted, "Who told you we see nothing and hear nothing? We see and hear through the eyes and ears of our friends, all people, the entire human race." The film focuses on Suvorov, whom Almborg met in his home in a Moscow suburb. For a few evenings, they spoke with the help of two translators, from English to Russian and from Russian to tactile signing and back – a slow, fragmented conversation marked by misunderstandings and translation errors that serves as the basis for the film's dialogue. The film also includes 16mm archival footage which documents the teaching and activities around the Zagorsk School in the late 60s to early 70s. Its filmmaker and exact date is unknown; the only information attached to the reels when Almborg found them in the archives in Moscow was the title "Talking Hands".
Emanuel Almborg is an artist based in Stockholm and London. His practice is primarily moving image-based and has developed through an engagement with pedagogy, developmental psychology and drama. His films often draw on research into the history of schools and institutions that grapple with relations between theory and practice. He finished a PhD at The Royal Institute of Art, Stockholm (KKH), 2021, with the dissertation; Towards a Pedagogy of the Utopian Image. He was a Whitney Independent Study program fellow in New York, 2015. His work has recently been shown at Moderna Museet, Stockholm, Whitechapel Gallery, London and Kunstverein Muenchen, Munich.
This event will take place on Zoom Webinar. The link to join the event will be sent to you in a confirmation email. Please register through THIS LINK.

Scientific Organization: Valentine Bernasconi (Universität Zürich), Amir Saifullin (Bibliotheca Hertziana / Universität Zürich), Research Group "Rethinking Art History Through Disability," (Virginia Marano, Charlotte Matter, Laura Valterio, Universität Zürich)
Image description: black and white photograph of a young man touching a bas-relief depicting a handworker, in company of a man and a woman