Research Seminar Series: "Shifting Images and Ideas of Europe's East: An Art Historical Approach from the Margins"
1. Research Seminar: "Integration through Exhibition. On Large-scale Art Shows in Cold-War Divided Europe"
Event on-site and online

Data:

11.11.2022

Ora:

14:00 - 16:00

Relatore:

Matteo Bertelé

Luogo:

Villino Stroganoff, Via Gregoriana 22, 00187 Rom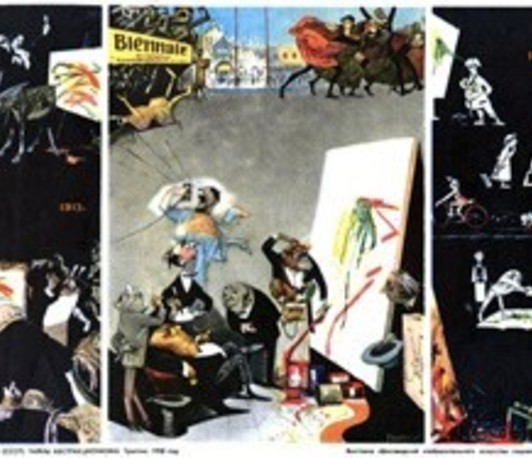 Speaking of Europe often presupposes the existence of a stable unity of people with a common history, culture and identity. Yet it is not only the current political crisis that reveals major imbalances within the continent, where the gap between 'West' and 'East' looms particularly large. This series of research seminars offers the opportunity to read Europe's East from a historical perspective, in its relationship to other European regions, some of them (self-)declared as the center, as well as to the neighboring continent of Asia.
We will examine how both sides discursively negotiated questions of identity and significance, as well as geographical and cultural boundaries. We will use artifacts and performative cultural practices to understand how the associated processes of inclusion and exclusion did function, how Europe was repeatedly produced and constructed in the changing field of tension between East and West, and under what conditions and with what intentions these shifts did occur.
1. Research Seminar: Integration through exhibition. On large-scale art shows in Cold-War divided Europe
The lecture will focus on international exhibitions held in the second half of the Fifties in Cold-War divided Europe. On the Western side, ten years after the end of WWII, two defeated nations deployed art exhibitions as tools for reconciliation and integration.
That happened in 1955 in Kassel with the foundation of documenta and in 1956 at the Venice Biennale (already at its fifth post-war edition) with the participation of an unprecedented number of European nations. On the other side, Central and Eastern Europe underwent several changes in the wake of the Thaw. While the Soviet Union hosted exhibitions and festivals intended to prove its internationalist aura, the Polish pavilion at the Venice Biennale presented modernist artists as a way to emancipate national culture from Soviet socialist realism. On the basis of selected case studies, the lecture will investigate the effective and speculative appropriation of Europeanness in the practice of art exhibitions as means of reconciliation and appeasement in the divided continent.
Matteo Bertelé is Associate professor of Contemporary Art History at Ca' Foscari University of Venice. He is chief-editor of the art journal "Venezia Arti" and executive director of the summer school "Contemporary art and curatorship. From documenta to the Biennale". He is the author of the book Arte sovietica alla Biennale di Venezia (1924-1962) (Mimesis, 2020). His main research projects deal with exhibition studies, artistic diasporas, Russian, Soviet and socialist arts and visual cultures, and the cultural dimension of the Cold War.
For online participation please follow this link Zoom: https://us02web.zoom.us/j/7475586652
Scientific Organization: Jana Graul and Seraina Renz
Caption: Fedor Reshetnikov, The secrets of the abstract painter, 1958, tryptic, oil on canvas,
cm 179х228, Tretyakov State Gallery, Moscow. Reproduction from "Ogonek", n. 10, 1959.