The Voices, Sounds, and Images of Europe
Interdisciplinary Conference
Data:

18.11.2022

Ora:

14:00 - 18:30

Relatore:

Interdisciplinary Conference

Luogo:

Villino Stroganoff, Via Gregoriana 22, 00187 Rom

Contatto:

freiberg@biblhertz.it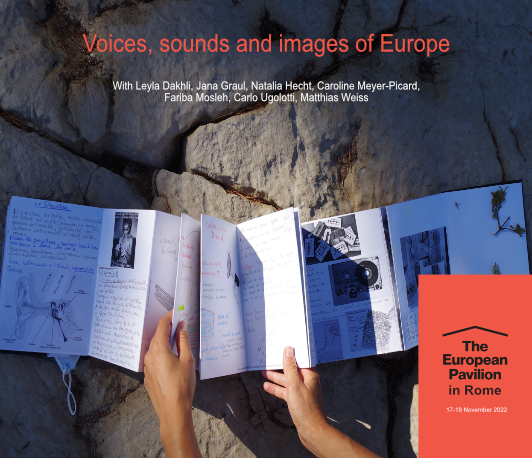 Organised within the framework of the European Pavilion in Rome and dedicated to the many voices, languages and images that make up Europe, this afternoon at Bibliotheca Hertziana is divided into three programmes that combine presentations, listening sessions and exchanges with the guests and amongst the audience.
Drawing on the meaning of the French word 'pavillon', which refers to the visible part of the ear that allows us to hear, this programme is dedicated to the many voices and languages that make up Europe, emphasizing the importance of stepping beyond eurocentrism and listening to the stories that are often unheard as well as confronting images that are overlooked.
Program
14:00 – Visualizing Europe
Bringing together former and current Bibliotheca Hertziana fellows Jana Graul, Matthias Weiss and Carlo Ugolotti, and the journalist Constanza Spocci as a moderator, this session will explore how Europe has been imagined and visualised through arts and media throughout history. Looking at images of Europe produced by European artists and filmmakers since the 16th century, we will discuss their differences, interdependencies and permeabilities. We will also contrast these with images of the continent and its inhabitants created outside Europe. Visitors are encouraged to join the conversation and explore these images as a site for negotiating (non-)belonging to Europe, whether for geographical, political or religious reasons.
15:30 – Translating Resistance, Smuggling Utopia with Leyla Dakhli and Caroline Meyer-Picard
Led by historian Leyla Dakhli, philosopher Esla Dorlin, and choreographer Caroline Meyer-Picard, Translating Resistance, Smuggling Utopia is a research project that aims to retrace trajectories of resistance and utopian thinking in ​Southern ​Europe and the Mediterranean. At Bibliotheca Hertziana, the collective presents a sound installation and a live-performance that weaves together multilingual archives and voices of mobilizations and revolts in the Mediterranean area.
17:00 – Listening out Loud: StoryTelling: Europe!
In this listening session, we will hear excerpts from a series of audio recordings produced by artist Melika Ramić together with local children at Vienna's Brunnenmarkt. These recordings, simultaneously translated into some of the most widely spoken languages in Rome, invite us to enter a polyphonic chorus that offers new forms of listening to the daily lives and views of both neighbors and children. The recordings help us reflect on key questions about Europe's past, present and future from a transgenerational perspective anchored in the everyday life of the market.
Co-curators Fariba Mosleh and Natalia Hecht will invite us to expand the questions and reflections about Europe both at an individual and collective level.
Speakers
Leyla Dakhli is a historian and a full-time researcher in the French Center for National Research (CNRS).
Jana Graul is an art historian, specialized in Early Modern European Art with a focus on art theory, the ethics of the artist and the construction of identity; she is Postdoc Fellow at the Bibliotheca Hertziana with a research project on the artistic imaginary of Europe.
Natalia Hecht is a community artist, psychologist, and cultural evaluation expert from Argentina living in Vienna.
Caroline Meyer-Picard is a choreographer who, since 2018, has been teaching dance technique at the University of the Arts in Berlin.
Fariba Mosleh works as curator for visual arts, performance and international projects at Brunnenpassage Vienna
Carlo Ugolotti, historian, researcher and project manager of the Institute of Resistance and Contemporary Age of Parma (ISREC). He deals with the relationship between cinema and history, between history and imagination and between cinema and urban space.
Matthias Weiss is an art historian with a focus on modern art, head of art history department and deputy Head of the Department of Art, Music and Dance Studies at the Paris Lodron University of Salzburg, Austria
Pre-registration for the event is required: https://www.eventbrite.com/e/435627683127

Scientific Organization: this event is organized as part of "The European Pavillon in Rome" (https://theeuropeanpavilion.eu/), a three-day artistic program organized by the European Cultural Foundation in collaboration with Fondazione Studio Rizoma, and generously hosted by our partners Bibliotheca Hertziana – Max Planck Institute for Art History, Goethe-Institut Rome, German Academy Rome Villa Massimo, Académie de France à Rome Villa Médicis, Istituto Svizzero (Swiss Institute) and Museo delle Civiltà.