Research Seminar Series: "Shifting Images and Ideas of Europe's East: An Art Historical Approach from the Margins"
2. Research Seminar: "An Encounter of the Opposites: Images of Russia in European Renaissance Writing and the Russian Responses"
Event on-site and online

Data:

13.12.2022

Ora:

15:00 - 17:00

Relatore:

Ovanes Akopyan

Contatto:

freiberg@biblhertz.it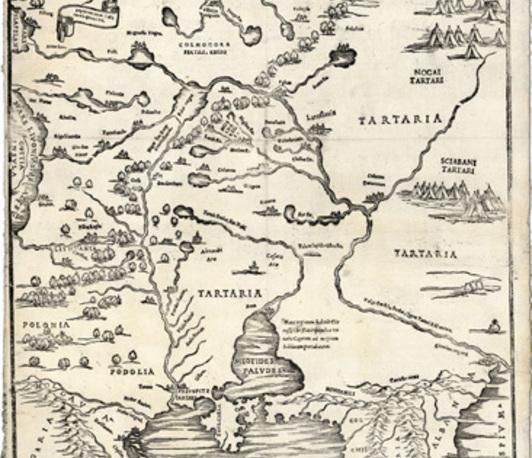 Speaking of Europe often presupposes the existence of a stable unity of people with a common history, culture and identity. Yet it is not only the current political crisis that reveals major imbalances within the continent, where the gap between 'West' and 'East' looms particularly large. This series of research seminars offers the opportunity to read Europe's East from a historical perspective, in its relationship to other European regions, some of them (self-)declared as the center, as well as to the neighboring continent of Asia.
We will examine how both sides discursively negotiated questions of identity and significance, as well as geographical and cultural boundaries. We will use artifacts and performative cultural practices to understand how the associated processes of inclusion and exclusion did function, how Europe was repeatedly produced and constructed in the changing field of tension between East and West, and under what conditions and with what intentions these shifts did occur.

2. Research Seminar: An Encounter of the Opposites: Images of Russia in European Renaissance Writing and the Russian Responses
This lecture investigates the shifting perception of Russia in European Renaissance writing, roughly between 1480, when it was an almost entirely unknown and mysterious eastern neighbour, and 1547, when it came to be seen as an integral part of the European world. Based on a large corpus of hitherto unexplored sources, this paper identifies the factors behind this transformation and demonstrates how political needs prompted an increasing interest in the Muscovite state among European scholars. At the same time, with a particular focus on the reception of Renaissance learning in Muscovy, this project provides the first comprehensive study of the image of the 'West' in contemporary Russian texts.
Ovanes Akopyan is Andrew W Mellon Fellow at Villa I Tatti, the Harvard University Center for Italian Renaissance Studies. He has published extensively on Renaissance and early modern intellectual history and science, including Debating the Stars in the Italian Renaissance: Giovanni Pico della Mirandola's Disputationes adversus astrologiam divinatricem and its Reception (Brill, 2021). Akopyan's second monograph, provisionally entitled Explaining Natural Disasters in Early Modern Europe: Politics, Science, Rhetoric, is under contract with Johns Hopkins University Press.
For participation online via Zoom please follow this link: https://us02web.zoom.us/meeting/register/tZ0qcuGprz8jH9awiPD7Nt02uYbpqj8v6hr9
Scientific organization: Jana Graul and Seraina Renz