Nunc est caro Christi. Images, Inscriptions, and the Making of the Eucharist
Research Seminar
Data:

19.01.2023

Ora:

11:00 - 12:30

Relatore:

Vincent Debiais

Luogo:

Villino Stroganoff, Via Gregoriana 22, RM 00187 Rome and online (Vimeo)

Contatto:

rossi@biblhertz.it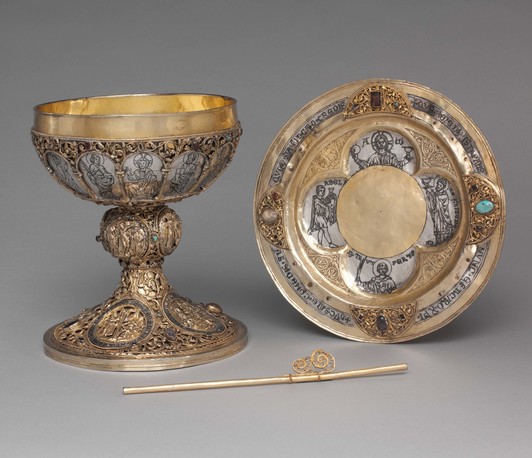 Three pieces produced in Germany in the early 13th century for the Abbey of St. Trudpert present a very rich set of images and inscriptions that reveal a singular vision of the sacrament of the Eucharist, and an original approach to sacramental theology in general.
This research seminar tries to show how the liturgical objects from St. Trudpert, today at the Metropolitan Museum of Art in New York, are part of an original thought on the sacrament in which the figure of the priest, at the heart of the images and inscriptions, has a new importance in the creation of this link between the people and the Church, and what is the meaning of such a discourse in a monastic context. The treasure in the MET must be put in perspective with a series of objects (produced in the Empire between 1180 and 1300) moving the discourse on the Eucharist from a reflection on the real presence of Christ on the altar towards a daily and practical elaboration of the place of the sacrament in the life of the church as a social community of the faithful.

Vincent Debiais (Ph.D. 2004) is a medievalist and a faculty member at the École des hautes études en sciences sociales in Paris. His research focuses on the interaction between written and visual cultures in the Western Middle Ages, and on the links between rhetorics, theology and images. He has published on medieval epigraphy, the representation of silence in medieval art, and he is currently finishing on essay on the medieval conception of abstraction and its translation in images and objects.
For online participation, you can follow without registration the event on our Vimeo channel: https://vimeo.com/event/2771491

Scientific Organization: Elisabetta Scirocco
Image: New York, The Metropolitan Museum of Art, Ensemble for the Eucharistic liturgy (paten, chalice, straw) Public Domain