Media Involution and Political Conflict in Fifteenth-Century England
Pre-registration is required

Data:

01.03.2023

Ora:

15:00 - 17:00

Relatrice:

Sonja Drimmer

Luogo:

Palazzo Zuccari, Via Gregoriana 28, Sala Riunioni, 00187 Roma

Contatto:

katja.hackstein@biblhertz.it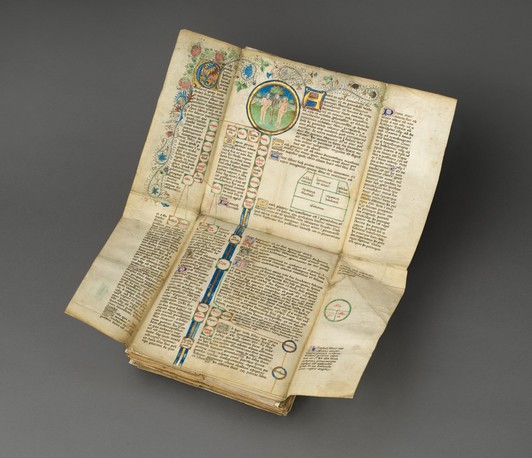 Over sixty years ago, Curt Bühler, curator of rare books at the Morgan Library, mused, "The fifteenth century, it may well be said, was one of the most curious and confused periods in recorded history. Not the least curious and confusing of its aspects is the story of the book production in that century." While Bühler was reflecting on the impact of print, his comments apply well to England's situation, which, for the most part of the fifteenth century, remained unrocked by any media revolutions.
Instead, what emerged during this period was the heightened visibility of bibliographical forms that defied medieval England's own historiography of the book, dominated as it was by the supersessionist paradigm "from roll to codex." Focusing on books that are neither roll nor codex, and which played a decisive part in the political conflicts of the period, this talk will showcase involution—that is, complexity—as the defining feature of the late medieval history of the book.
Sonja Drimmer is Associate Professor of medieval art history at the University of Massachusetts Amherst and is the author of The Art of Allusion: Illuminators and the Making of English Literature, 1403-1476 (University of Pennsylvania, 2018.
To register please send an email to: katja.hackstein@biblhertz.it
For online participation please follow this link: https://us02web.zoom.us/meeting/register/tZwvdO6gpjwoGdEv8U5HYl0Lryv85M6pQK-g
Scientific Organization: Sietske Fransen, Ariella Minden