Scraping the Surface: Mezzotint and the Delicate Matter of Skin in Eighteenth-Century Britain
Part of the research seminar series 'Conserving Histories of Art'
Datum:

20.06.2023

Uhrzeit:

17:00 - 18:30

Vortragende:

Jennifer Chuong in conversation with Esther Chadwick

Ort:

Villino Stroganoff, Via Gregoriana 22, 00187 Roma & Zoom

Kontakt:

john.rattray@biblhertz.it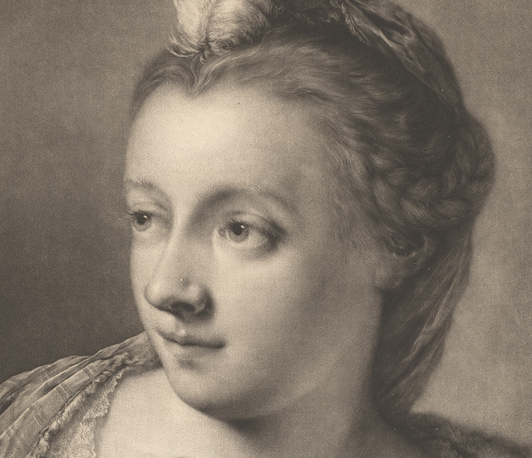 Made by rocking a toothed blade across a plate thousands of times to create a delicate burred surface and then scraping or burnishing the burrs to create tonal gradations, the mezzotint – both as matrix and print – is notoriously fragile.
While this fragility has generally been understood as an unfortunate side effect of the technique's marketable speed, this seminar will argue that, in the second half of the eighteenth century, the mezzotint's delicacy was a desirable quality because it accorded with an Enlightenment interest in physical surfaces as active, renewable sites. Considering the mezzotint's prevailing use for portraiture, I show that the physical structure of mezzotint engraving materialised a new conception of skin as a substantial, dynamic interface; and that it thus advanced new understandings of skin as a gendered and racialised surface subject to environmental influence. The talk will further demonstrate that, in conjunction with politically charged debates over the biological influence of the North American environment, mezzotint surfaces played a key role in positing, both positively and negatively, the formation of a specifically "American" body.
Jennifer Chuong is an art historian whose research centres on the art, architecture, and material culture of the transatlantic world in the eighteenth and nineteenth centuries as they relate to histories of environment and race. She is currently the Terra Foundation for American Art Postdoctoral Teaching Fellow at Humboldt-Universität zu Berlin and a Junior Fellow (on leave) in the Harvard Society of Fellows. Her research has been published in The Art Bulletin, Journal18, and Panorama, as well as several edited volumes and exhibition catalogues.
Esther Chadwick is a specialist in eighteenth-century British art. She studied Art History at the University of Cambridge and completed her doctorate at Yale University in 2016. She has held fellowships at the Paul Mellon Centre in London, the Huntington Library, California, the Lewis Walpole Library, Connecticut, and in 2013-2016 was Paul Mellon Fellow at the Center for Advanced Study in the Visual Arts, Washington D.C. Before joining the Courtauld, she was a curator in the Department of Prints and Drawings at the British Museum.
For participation online, we will publish a Zoom link here.
Scientific Organization: Lise Meitner Group "Decay, Loss, and Conservation in Art History"
Image: Print made by Thomas Frye, Portrait of a Young Woman with a Feather in Her Hair, 1760, Mezzotint on moderately thick, moderately textured, beige laid paper, Yale Center for British Art, Paul Mellon Collection.