The Tramezzo of Santa Chiara in Naples. New Technologies for an Old Question
Reihe "Neue Forschungen zu Neapel/Nuove ricerche napoletane"
Datum:

04.06.2018

Uhrzeit:

13:00

Vortragende:

Caroline Bruzelius

Ort:

Villino Stroganoff, Via Gregoriana 22, 00187 Rom

Gastgeber:

Bibliotheca Hertziana - Max-Planck-Institut für Kunstgeschichte

Kontakt:

paulinyi@biblhertz.it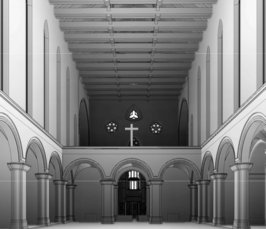 The choir screens of medieval churches were systematically dismantled in the 16th century, a process that obliterated the internal divisions within churches as well as their altars, pulpits, painted and sculptural decoration, and sepulchral monuments.
Modern restoration and replaced pavements usually conceal surviving evidence of the location and character of these screens. The obliteration of evidence has been particularly acute at the church of Santa Chiara in Naples, which was radically restored after the bombardment of 1943. This project began as an interdisciplinary and collaborative experiment to determine whether GPR (ground-penetrating radar), laser scans, and 3d modeling could propose a viable hypothesis for the location and character of the tramezzo of Santa Chiara. With expertise from the universities of Padua, Salerno, Duke, and Suor Orsola in Naples, a research team has proposed a reconstruction that profoundly transforms our understanding of the church and its monuments.

The Series "Neue Forschungen zu Neapel" is organized by Tanja Michalsky and Elisabetta Scirocco.

Caroline Bruzelius Professor of Art History at Duke University, studies medieval buildings in France and Italy. Her most recent book examines the urban and architectural impact of the mendicant orders. As founder of the Wired lab and Visualizing Venice, she has pioneered the use digital technologies in Art History.