David Zagoury receives Otto Hahn Medal 2019
David Zagoury, Bibliotheca Hertziana – Max-Planck-Institut für Kunstgeschichte, was awarded the Otto Hahn Medal 2019 for his research on the notion of
fantasia
in Italian art and art theory of the sixteenth century. The medal recognizes outstanding scientific achievements by junior scientists.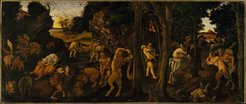 In his doctoral thesis The Autonomous Maker Within: Fantasia in Sixteenth-Century Italian Art Theory (1501-1568), Zagoury examines the notion of fantasia, a concept central to the art and art theory of late-Renaissance Italy. Anchored in poetics, faculty psychology and folk magic, this notion acted as a counterpoint to the normative models that came into force in Quattrocento. It allowed a young generation of Northern Italian artists to subvert the existing canons, as they evolved an idiosyncratic concept of fantasia understood as an irrational, animalistic and erratic creative principle. Through a vast corpus of images Zagoury also reconstructs the artists' visual engagement with fantasia in the sixteenth century. Their contribution, he shows, was shaped at the interplay between image and text, warranting the study's multidisciplinary approach. The thesis represents the first attempt to reconstruct the visual culture of fantasia through a broad survey of iconic and textual sources.
David Zagoury, PhD is Postdoctoral Fellow in the Department Art of the Modern Age in a Global Context of the Bibliotheca Hertziana – Max Planck Institute for Art History and a Lecturer at the Institute for Art History of the University of Zurich. The Bibliotheca Hertziana promotes scientific research in the field of Italian and global history of art and architecture. It is part of the Human Sciences Section of the Max Planck Society and is considered one of the world's most renowned research institutes for art history. The research focus of the department lies on the global ramifications of Italian art from the early modern period to modernism, in the expansion of the Bibliotheca Hertziana's research activities toward modern and contemporary art, in questions of materiality and mediality, in the intellectual history of the discipline of art history and in digital art history.
Since 1978, the Max Planck Society has honored young scientists and researchers each year with the Otto Hahn Medal for outstanding scientific achievements, generally for the work completed in their doctorate. The award comes with a monetary sum of 7.500 Euros as recognition. The prize is intended to motivate especially gifted early career researchers to pursue a future university or research career. Since 1978, more than 1000 scientists and researchers have been awarded the Otto Hahn Medal. The award is presented during the general meeting in the following year. Due to the Covid-19 pandemic, the actual presentation of the prizes had to be postponed to June 19, 2021.
Dr.

Marieke von Bernstorff

Press and Public Relations