Annual Research Initiative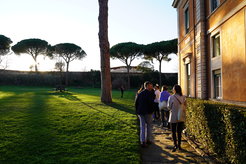 Each year, the Lise Meitner Group's Annual Research Initiative considers the practical and theoretical repercussions that a specific form of loss poses for the discipline. It brings together scholars, conservators, curators, and artists to promote research that explores not only what those repercussions mean for objects, but also for our approach to them.
In 2022–23 "Waste" examined what we intentionally throw away. In 2023–24, "Loot" addresses things that are taken away or intentionally destroyed. Future yearly initiatives will be devoted to lacunae and the destructive effects of natural disasters. The Initiatives encourage a broad rethinking of loss as something that can materially transform, conceptually reclassify, and otherwise uncover new categories of objects; a force that shapes both what is left of the history of art to study and the biases, limits, and lenses that inform how we study it.
Conceived in collaboration with affiliated academics and pre- and postdoctoral research fellows, each Initiative culminates in a multi-day series of events. At the core is an international conference which brings scholars together around a single topic. This convening is complemented by partnerships with local collections and institutions, resulting in a calendar of related programming that includes special presentations by artists, keynote addresses by leading experts, roundtables, and site visits around the city of Rome – itself a landscape of objects lost, spoiled, reused and recovered.
The outcomes of each Annual Research Initiative are collected in a volume of essays, forming part of a dedicated five-volume editorial series published by Officina Libraria. This is the central collective output of the Lise Meitner Group.