Urban Mobility and Segregation in Early Modern Venice
Research Seminar
Data:

29.05.2018

Ora:

13:00

Relatori:

Rosa Salzberg and Saundra Weddle

Luogo:

Villino Stroganoff, Via Gregoriana 22, 00187 Rom

Ospite:

Bibliotheca Hertziana - Max-Planck-Institut für Kunstgeschichte

Contatto:

paulinyi@biblhertz.it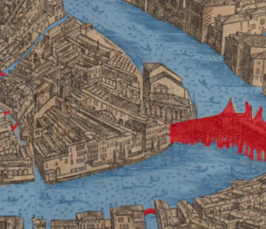 Shared Spaces? Mobility, Cohabitation and Cultural Exchange in Early Modern Venice This paper draws on my larger research project on spaces of arrival for migrants and travellers to early modern Venice. It argues particularly that the city's many lodging houses offer a valuable key to understanding the nature and impact of mobility in an early modern metropolis.
Many Venetian inhabitants found a niche in the 'underground economy' of hospitality by renting beds or rooms to new arrivals. As such they played an important, but neglected, role as cultural mediators, negotiating differences of language and custom as well as liaising between recent arrivals, the local community and the government. Lodging houses also were vital to the people who stayed in them, and found there not only accommodation and food, but also companionship, conversation and access to social and professional networks. As well as surveying the booming lodging sector in the sixteenth century, the paper will examine the kinds of encounters, conflicts and exchanges that unfolded in these intimate, shared spaces. As such it aims to provide new insight into how the entire Venetian population sought to maintain a delicate balance between interaction and segregation, co-existence and curiosity, profit and exchange. Saundra Weddle Hidden in Plain Sight: The Place of Prostitution in Early Modern Venice: The business of prostitution in Venice is well documented, focusing on the regulations and economic relationships that structured prostitutes' activities, but the architectural and spatial conditions of the municipal brothels and the places where illegal prostitution occurred have been neglected. This paper, which is part of a broader study of segregation in early modern Venice, proposes for the first time likely locations for the brothels, which were embedded in the Rialto commercial district. Vernacular buildings were appropriated for these "Castelletti", which functioned as nodes within a zone where legal sex work occurred. Maps of locations of arrests of prostitutes working beyond Rialto permit a comparative analysis of pedestrian and boat circulation patterns and elements of urban infrastructure, like sottoporteghi, quays, bridges, and dead-end rami, producing an inventory of built conditions and a new understanding of the spatial practices associated with prostitution.

Research Seminar organized by Danielle Abdon Guimaraes.

Rosa Salzberg is Associate Professor of Italian Renaissance History at the University of Warwick (UK) and in 2016-18 a Marie Sklowdowska-Curie Fellow at the European University Institute, Florence.
Saundra Weddle is Professor of architectural history at Drury University and Visiting Professor in the College of Architecture at Washington University in Saint Louis (Missouri, USA).